Welcome to
Wah Hing Jewellery & Arts Co. Official Website


An Important Announcement from Sunny:
20 April, 2018

Dear Customers and Friends,

Thank you for your patronage since the start of our business in 1976. With the current lease for our Mody Road shop in Hong Kong is expiring, along with the restructure of the company, our store, Wah Hing Jewellery & Arts Company, located on Mody Road, Tsimshatsui, will be closing from the beginning of May.
At the same time, our factory in Hong Kong remains open and business as usual. We will continue to accept jewellery made to order, or any repairing to be done on your precious jewellery. Please contact use by email, jewellery@wahhingja.com or visit our website, www.wahhingja.com for further instructions.
We continue to welcome Mail Order, as well as any jewellery you would like to have, or to be made by us. Our mailing address is TST PO Box 95621, Tsim Sha Tsui Post Office, Hong Kong.
While working in the store, and taking care of my parents for the past 15 years, i am sadly to let you know my father had passed away in March 2017. With the current lease expiring, it gives me a good chance to take a break, and continuously taking care of my mother. I will let you know my further planning once it is available, and please visit our website (www.wahhingja.com) regularly for official updates.
I can always be reached by email, jewellery@wahhingja.com, or by phone +(852) 2366-8603.
Our sister store in Hawaii, Wahing Jewelry and Arts Co., managed by Tony, since 1984, is located inside the Waikiki Shopping Plaza, at 2250 Kalakaua Ave., Shop 214, Honolulu, Hawaii 96815, USA. Tony can be reached by phone +1 (808) 922-2255, or by email, wahing@aol.com. You might also visit the website, www.wahingjewelry.com. Do come visit Tony when you are visiting Hawaii.
Thank you very much for all your support and business along the way, and I look forward serving you again in the near future.

Yours Faithfully,
Sunny Ko (Or)
Change of E-mail Address:
We would like to announce the change of our email address effective April 1, 2015. Please send all email correspondence to us solely to
jewellery@wahhingja.com
We thank you for your attention, and appreciate all your business.
Please click onto the link to become a fan of us on Facebook.
We Moved to Mody Road!!
Dear Friends,
Thank you for your business and purchase of the years. With the expiration of the lease in Silvercord at Canton Road, we moved to new location ground floor store at Mody Road in the beginning of June, 2011.
Please update your records accordingly.
Wah Hing Jewellery & Arts Co.
G/F, 41E, Mody Road
Ocean View Court,
Tsimshatsui,
Kowloon , Hong Kong.
Tel: (852) 2366 8603
Fax: (852)2366 8603

E-mail address: wahhingja@ismart.net.hk
Website: www.wahhingja.com
Our phone number and email address remain the same as stated above.
We hope this ground floor location would be easier for find. We look forward to serving you in our new store.
Sincerely yours,
Sunny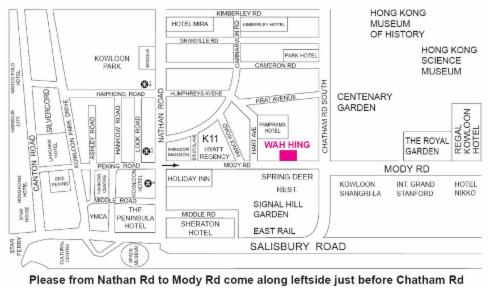 New Designs are Now Available!!
MAIL & E-MAIL ORDER ACCEPTED

Please click onto the Jewellery Design page to see our latest jewellery design. Or if you have any questions or comments, we will be happy to answer or assist you. Please click onto the Contact us page for our contact information.